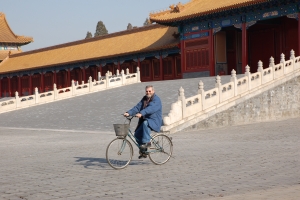 About Dries Blitz
Dries Blitz worked from 1968-1978 at Bluett & Sons in London, the renowned specialist dealers in Chinese art where he became a director. Eventually he decided to set up his own business in Amsterdam.
Blitz Chinese Ceramics & Works of Art was founded in Amsterdam in 1978 (as Blitz Antiek en Kunsthandel). Since then they have taken part in antiques fairs in the Netherlands, HongKong, London and New York. As a result they have customers all over the world: private collectors, dealers and museums.
Dries Blitz has for many years been involved with vetting in many International Fairs, often as head of a specialist Chinese Vetting committee.
International Ceramics Fair, London; The Fine Art and Antique Dealers Show, New York, The International Asian Art Fair, New York and TEFAF, the Netherlands.
He has the support of his wife Diana and of Willemijn Murray; both have greatly contributed to the success of the firm.
They are renowned for their early Chinese ceramics and works of art but they also have objects of later periods in stock (Ming,Qing) as well as items from other Asian cultures.
All these objects meet their strict requirements of high quality and authenticity.